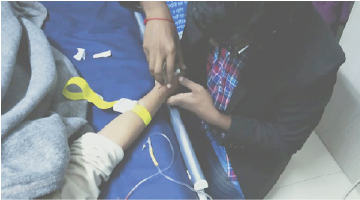 IN HOUSE DIAGNOSTIC
SAMPLE HOME COLLECTION
One stop medical super shop where you will find all your diagnostic tests
We believe that health is apex priority. To ensure the diagnostic services we are providing the cost –effective, high quality diagnostic care Acro

Medical is partnered with the globally recognized labs in the country. We also have a team of experienced phlebotomists, who collect samples from

patients' home. For many people, the idea of spending long hours in a lab or hospital may sound demotivating. Many people also avoid going for preventive screenings and lab tests as they dread battling city traffic. In certain cases, travel-related stress can increase the risk of infection and delay recovery. Home sample collection is especially beneficial to the elderly, chronically ill patients, patients recovering post-surgery and bedridden. With

home sample collection, you can get your tests done timely and have a better track of your health.
Booking a lab test is quick and easy now
We provide complete health check-up packages and individual lab tests for you and your family. Our wide range of lab tests includes complete

Blood Count, Fasting Blood Sugar (FBS), Postprandial Blood Sugar (PPBS), Hba1c, Thyroid Profile (T3,T4 AND TSH), Lipid Profile, Urine Test,

CRP Blood Test, Cholesterol Test, Dengue Blood Test, Vitamin Test, Kidney Profile and other test at your convenience.
Why do you choose our diagnostic service?
Our priority based medical diagnostic centers & associates are:
♦

ICDDRB


♦

Popular Diagnostic Center


♦

Thyrocare Bangladesh


♦

CRL Diagnostic Center


♦

Dr. Lal Path Labs


♦

Prime Diagnostic Centre
We are dedicated to quality
Tests Types:
▪

Immunology & Serology



▪
Biochemical Exam
▪
Hematology Exam
▪
Hepatitis profile
▪
Cancer Marker
▪
Torch Panel
▪
Drug Monitoring
▪
Drug of abuse/toxicity
▪
Cardiology
▪
PCR Lab test/Molecular Test
▪
Microbiology
▪
Endocrinology
▪

All types of
Urine Test
▪
Histo & cytopathology
▪
Allergy Test
▪
ECG
▪
ECHO
▪
Chest X-ray
▪
Ultrasound
▪
CT Scan
▪
Stool
▪
EGG
▪
Clinical pathology & many more


Diagnostic Packages