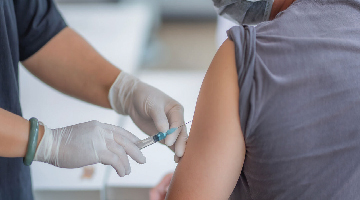 VACCINATION
IN HOUSE VACCINATION & RECORD MAINTENANCE
Prevention is better than cure
It is always advisable to get vaccinated for the varied diseases rather than suffer and seek medication. The term vaccination and immunization have often been mistakenly used interchangeably as both have different meaning. While vaccination is the

administration of vaccine, immunization is basically what happens to the body after being vaccinated.



Vaccination is an important procedure that protects us from harmful diseases. It is just too taxing to visit a hospital or doctor's clinic for such a small procedure, more so if you can get vaccinations at home. Acro medical offers affordable nursing and doctor services, who will readily visit you and administer vaccines at home. We also provide vaccination at corporate offices for employees. We offer Flu/H1N1, HBV, HAV, Typhoid, Pneumonia, Chicken Pox, Cholera, HPV/Cervical Cancer and other

vaccines can be made available on request.
Reasons to get vaccinated are:
Vaccination is a simple procedure and can be easily administered at home under the care of a trained nurse. The benefits of getting vaccination at home are as follows:
●
Vaccination at home is being able to get the services of doctor or nurse at the comfort of your home, rather than having to travel all the way to the hospital and wait for your turn.

●
Vaccinations causes a lot of stress among children, so to ease the process it is better to get them vaccinated at the comfort of the home, where they can also be handled by family members.

●
Getting vaccination at home also allows you the luxury to choose the day and time of vaccination as per your schedule, rather than having to abort important work just to make it for the doctor's appointment on time.

●
Vaccine schedule will be maintained by the skilled team of Acro Medical.

●
For a large number of people's vaccination process like corporates we have organized set up & plan which will be executed at their convenient location & time.

●
Through us you will be vaccinated with an at actual MRP rate of vaccine including a service charge.
Choose well. Be well.
We are experienced at providing both pre-travel medical advice and immunizations, and post travel check-ups. We provide the following vaccines:
■ Tetanus
■ Polio
■ Hepatitis A And B
■ Typhoid
■ Meningitis
■ Varicella (Chicken Pox)
■ Cholera
■ Rabies
■ Influenza
■ Pneumonia
■

HPV/Cervical Cancer
If you ever find yourself in need of a vaccination all you need is to get online and book an appointment with us