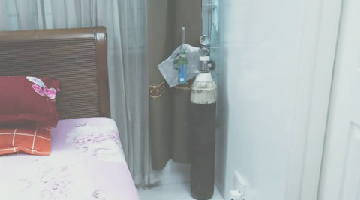 OXYGEN CYLINDER AT HOME
RESPIRATORY CARE
There is no substitute of oxygen
Your body can't live without the oxygen you
breathe
in from the air. But if you have
lung disease
or other medical conditions, you may not get enough of it. That can leave you short of breath and cause problems with your
heart
,
brain
, and other parts of your body.
Oxygen therapy
can help. It's a way to get extra oxygen for you to breathe. Oxygen is a prescription
medication
.

Acro Medical provides emergency medical oxygen cylinder rent and sell home service.
We have own oxygen cylinders to provide on demand oxygen support at your home

within 2 hours in Dhaka Bangladesh (any time, any ware, any places inside Dhaka

whenever you required or suggested by your doctors.

Home oxygen therapy can help with many conditions, including:

♥

Asthma

♥

Chronic bronchitis

♥

Congestive heart failure

♥

COPD
(
chronic obstructive pulmonary disease
)

♥

Cystic fibrosis

♥

Emphysema

♥

Lung cancer

♥

Pneumonia

♥

Pulmonary fibrosis

♥

Sleep apnea
Price rate

Complete set up.
Requirements and Procedure


Documents Required:


⌂

Doctor's Prescription (If Any)


⌂

Copy of National ID/Passport/Driving License


⌂

Our official agreement signing
Why Acro Medical oxygen rent support unique?
⸭ Strong support team for delivering

oxygen cylinder

home service.


⸭ High-quality medical oxygen
⸭ Easy-to-use cylinders.
⸭ Easy to refill.
⸭ Compact and portable.
⸭

Operation & technical part to handle will be shares with customer properly.
Benefits of oxygen therapy
Our Oxygen Cylinder Full Set Up Details:
Oxygen safety precautions:
▫

Oxygen is a safe, non-explosive gas when handled correctly. However, any material that is already burning will burn much faster and hotter in an oxygen-enriched environment, so the following precautions should be observed when you use home oxygen.


▫

Keep the oxygen at least 3 meters from any open flame or heat source, such as candles or a gas stove, or from anything that could cause a spark.


▫ Do not smoke or let anyone else smoke near the oxygen equipment.
▫ Avoid using anything flammable near the oxygen, including petrol, cleaning fluid, and aerosol cans or sprays such as fresheners or hairspray.
▫ Do not allow alcoholic solutions, oil or grease to come into contact with oxygen supply devices. This includes petroleum jelly.
▫ Check that all electrical equipment in the vicinity of the oxygen is properly grounded (earthed).
▫ Avoid using electrical appliances such as hairdryers and razors while oxygen is in use.
▫ Make sure you have smoke alarms in your house.
▫ Keep the oxygen equipment clean and dust free.
▫ Always plug your oxygen concentrator into a grounded electrical outlet. Never use an extension cord or power board.
▫ As the oxygen concentrator becomes hot when in use, locate it in a well-ventilated area, away from curtains or drapes.
▫ Have your oxygen concentrator inspected and serviced regularly according to the supplier's instructions.
▫ Store oxygen cylinders in an upright secure position in a well-ventilated area away from any open flame, heat source or direct sunlight. Do not cover with cloth or plastic.
▫ Handle oxygen equipment with care to avoid damaging cylinders.
▫ Secure and transport oxygen cylinders correctly. Check with your state or territory department of transport regarding the transport of oxygen in cars as safety standards may vary from state to state.
▫ Use the correct pressure gauge and regulator.
▫ When a cylinder is almost empty, close the valve and mark the cylinder as empty. Do not store full and empty cylinders together.
▫

If you have been prescribed oxygen 24 hours a day you may need a back-up oxygen cylinder. Discuss with your doctor whether this is the case for you.