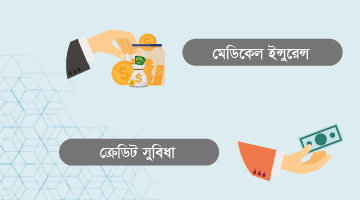 MEDICAL INSURANCE & CREDIT FACILITIES
FINANCIAL SUPPORT FOR TREATMENT
And we'll help to take care of your finances
Medical insurance
Acro Medical always makes efforts in providing the best opportunities for their members and
an additional way we want to do this is by bringing a new modern health insurance service to
our members. With a small amount of premium a person can get 50,000- 500,000-taka health
benefit per year. No employee has to be hired by his or her company for getting this insurance
benefit. The complete insurance process will be outsourced and we will be the company
providing you medical insurance. Acro Medical will take care of all of the documentation work
and claim processing. Our members will just enjoy the benefits.
Credit facilities
Acro Medical is the one & only company in our country that mainly focuses on the wellbeing of their members. Sometimes in medical emergency people are not able to pay instantly to get a medical service. They have to wait to start the treatment until they confirm their payment. Acro Medical thinks differently in this case. Our customized relationship-based solutions are designed to help you in the challenging and changing healthcare situations. We provide service to our members not to wait for the money. People can avail this credit facility after taking our lifetime membership at Acro Retirement Club.
Acro Medical offers payment options, including payment plans for those who needs financial assistance in health emergency situation based on some criteria & eligibility.
How can you get credit facility in your medical emergency